Biking
Types of mountain biking
On November 25, 2018 by Robert A. Apgar
Recently, there has been a growing interest in new types of cycling, which are developing as a variety of ways to spend free time on mountain biking. We decided to think a little about what a modern mountain bike is? How does this type of ride differ from others and what is the difference between the bikes that are used?
Perhaps this small excursion can help answer the following questions:
if it's worthwhile to try these activities;
what kind of bicycle to buy;
Whether mountain biking is an extreme sport, a sport of endurance or just an active leisure activity.
So, in order we will walk through the basic styles of skating and reflect on their features.
Cross-country is the first type of mountain biking, which we will begin with. In the classic definition it is a race for endurance on crossed tracks or training on such tracks.
They don't call the extreme mountain bike cross country anymore. However, on the slopes in the mountains there are very technically complex areas with steep slopes on rocky surfaces.
And when a rider is waiting for a heavy ascent several hundred meters long before such a descent – isn't it an extreme one? Drivers sometimes experience falls, though, as a rule, without serious injuries. Basically, all are decorated with abrasions and small bruises, mainly because they drive in the lightest possible form, using only a light helmet from the protection.
Athletes in this sport choose very light bikes. Lightweight frame made of special aluminum, titanium or carbon tubes, very light equipment – all this makes a sports bike expensive. The price of a real sports device starts from a thousand dollars.
In addition to the front shock absorber, a cross-country bike may have a rear suspension, which helps on the downhill or just on an uneven surface (rocks, roots). In addition, the rear suspension protects the joints of the legs and spine from overload, so it is very popular in ultra-long marathon races.
Dual suspensions have become particularly popular in recent years, after the shock absorbers have been fitted with a locking function. Such a bike can behave almost equally effectively both on the downhill and on the uphill.
A common belief among girls that cycling will make the legs full, fundamentally wrong, such loads will make the muscles enduring and, conversely, will remove excess fat.
Once in Russia, a mountain bike was distributed only as a cross-country bike. Gradually, it is on these bikes people tried to extreme – to ride with even steeper slopes or jump down from cliffs.
Cross-country skiing is also our most common type of cycling. Not only because it is the most affordable, but also because of the peculiarities of the natural landscape: real mountains are not everywhere, but you can try to ride in the cross country style in any country forest or even in a large city park.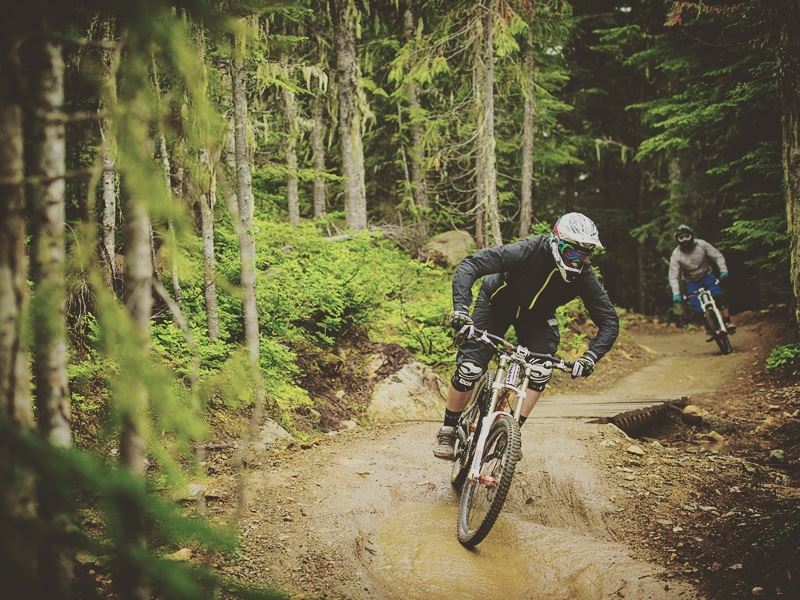 Downhill Downhill – In the West of North America, a mountain bike has started from downhill. Dedicated cyclists on the slopes of the ski slopes or just on non-asphalt roads experienced speed in the summer, gradually improving the design of the bike. The downhill bikes were getting stronger and stronger over the years, with shock absorbers in the front and back.
The essence of downhill is speed, speed and speed again. It is best felt on special routes and in the big mountains, that is, where the lifts work all year round. This is always very interesting: acceleration at maximum speed on a more or less straight stretch, bend, bump or ski jump, and again, again, speed. And the people involved in downhill are different from cross-country skiers in that they are clearly very, very keen on the thrill.
This entertainment is not cheap, good quality downhill bike costs at least two thousand dollars. Thus it is necessary to get the complete set expensive, but necessary equipment – a helmet similar on a design on motocross, protection on a body.
Everyone who has tried, agree in an unambiguous opinion that such entertainment is definitely worth any cost! By the way, downhill is not a purely male sport in the west. Quite a lot of girls demonstrate impressive speed.
Freeride is free movement on the slope and not always on the track. Both speed and complexity of the route, and the size of jumps from cliffs practically do not know the limit.
It is no coincidence that some fans of this style in Western Canada, where this sport is very popular, called their style Out Of Bounds – "Beyond". To understand what Western freeriders have achieved in their skills, it is best to watch a film from the NEW WORLD DISORDER series. Extreme freeriders are almost a hundred percent pure men's party.
Russian and Ukrainian freeride already has hundreds, if not thousands, of fans, including the beautiful half of the bicycle community.
One of the most beloved and picturesque places for freeriding is the Crimean slopes of the Ai-Petri plateau. There is a convenient cable car ride upstairs and a minibus ride (local drivers do the same service).
Well, and then you can admire the excellent views from the mountains and realize the opportunity to make a picturesque descent almost to the Black Sea. Spending a vacation with a freeride in the Crimea is probably the best dream of a mountain biker!
The bicycle for freeride, of course, it is better to choose two-pendant. It can be typically downhill, with a long stroke of suspension (180-200 mm), if the freeride is more downhill, and maybe even medium speed (with the stroke of suspension 160-180 mm), for a more universal use, because freerider sometimes need to overcome the flat areas and even small rises.
Trail – this style is a clear symbiosis of cross country and freeride, above all, cycling when you leave home and can spend the whole day on a mountain bike.
Recent Posts
Gallery




Like Us On Facebook
Video
Categories