General
Popularity of CBD Oil
On July 22, 2021 by Robert A. Apgar
CBD oil is increasingly cited as a solution to various health problems. For example, it would be used for stress and well-known athletes say they use CBD to recover faster from injuries and exertion. But what exactly is CBD? And what does it do? Is the oil safe to use? We have investigated.
What is CBD?
CBD is an abbreviation for cannabidiol. This substance is extracted from the hemp plant and, unlike the well-known THC, does not result in a high. Therefore CBD oil has no psychoactive effect and there is no risk of addiction. The substance does have a calming effect on the body and mind and for that reason it is often used as a natural sleep aid. But there are many more possible applications of CBD. Recently, several scientific studies have been conducted on the effect of CBD in epilepsy, Parkinson's disease and neuropathic pain. So far, the results look promising.
Natural support
CBD is not an official drug, but it does seem to give the body a boost in many areas. This is because CBD acts on the endocannabinoid system in the body, which affects the immune system, among other things. CBD has very many applications and would help with sleep problems, dejection or depression, stress-related complaints and various pain symptoms, among others.
Legality CBD oil
Within the Dutch law CBD products are legal when they have a THC content of less than 0.2%. CBD oil falls into this category and can be freely sold and consumed. Not only in the Netherlands, but also in many other European countries it is allowed to buy and use CBD. Usually traveling within Europe with CBD products is therefore just allowed.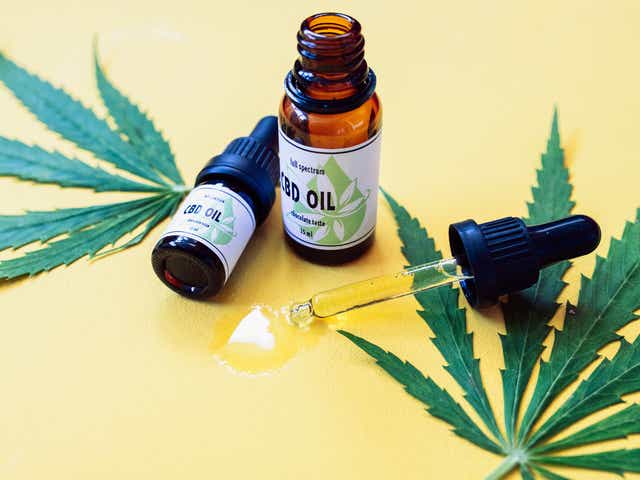 Is CBD oil safe?
CBD oil may be extracted from hemp, which falls under the CBD family, but because it contains no to negligible amounts of THC it is safe to use. THC is the substance that causes a high or stoned feeling. CBD also has no addictive effects. So when one stops using CBD, no withdrawal symptoms occur. There is also no question of a physical addiction. The supplement is safe for daily use. Also, people can choose to use only CBD oil at times when, for example, they suffer from physical symptoms or cannot sleep because of the heat.
Use of CBD oil
CBD oil is taken orally by dripping a few drops under the tongue. The active substance is absorbed through the oral mucosa. The dosage depends on the complaints. Everyone reacts differently to the oil, so it's often a matter of experimenting. It is advisable to start with a small number of drops and, if necessary, build it up further. The oil is available in different concentrations. A CBD oil with 5% CBD is most often used.
Which CBD oil dosage is best?
Dosing correctly is important for the best experience. Make sure the dosage is correct. For example, novice users should use less than advanced ones. Read all about the proper dosage of CBD oil below. Read this article from Readers Digest to learn more info on CBD oil.
Beginning user
As a beginner user, it is smart to start with a relatively low dosage first. This ensures that the experience can never be negative. Everyone's body is different and we all react differently to different products.
With some medications, weight, height, age or other medications affect the dosing of the drug. With CBD, the proper dosage does not depend on these points. The best dosage is by starting low and gradually increasing until the desired result is achieved.
There is one important point for the novice user to pay attention to. Once you know more about what the effect is on your body, you can better assess this for yourself. Of course, we are always available for personal advice. Please take note of the following point:
Approximately 75% of users are energized after taking it: as a result, if used before bedtime, you may not be able to fall asleep properly.
The best dose is one drop of CBD oil twice a day, for example in the morning and afternoon. After 5 days, increase the dosage by one additional drop per day. Once the body is used to daily dosing, build up a 'mirror'. You do this by taking a dose three to four times a day with breaks of 3 to 5 hours.
When to take a higher percentage?
You may need a higher percentage. The question is often, "When to a higher percentage?" To this we have an unequivocal answer.
We recommend going to a higher percentage as soon as more than 8 drops are taken during the day.
Recent Posts
Gallery




Like Us On Facebook
Video
Categories